Firefly LED was formed with one simple goal in mind: to revolutionize the LED screen experience by changing the way the industry does business. With our expert knowledge and valuable resources, we are able to partner exclusively with manufacturers to provide the luxury of high quality LED display technology.
Our lineup of LED solutions covers indoor LED, outdoor LED, and even a transparent solution to cover all situations and needs. Beyond our lineup, we can create custom configurations and shapes that will really create a wow-factor.
Through partnerships with AV Integrators, we'll be able to easily and efficiently get our quality products on display. If you're an AV Integrator, read on to find out the benefits of becoming a Firefly LED dealer.
Streamline the LED pricing & ordering process
To differentiate ourselves from the pack, Firefly LED built an intuitive LED Screen Builder that allows you to build an LED display and get instant pricing — yes, instantly. So how does it work? Let's take a look.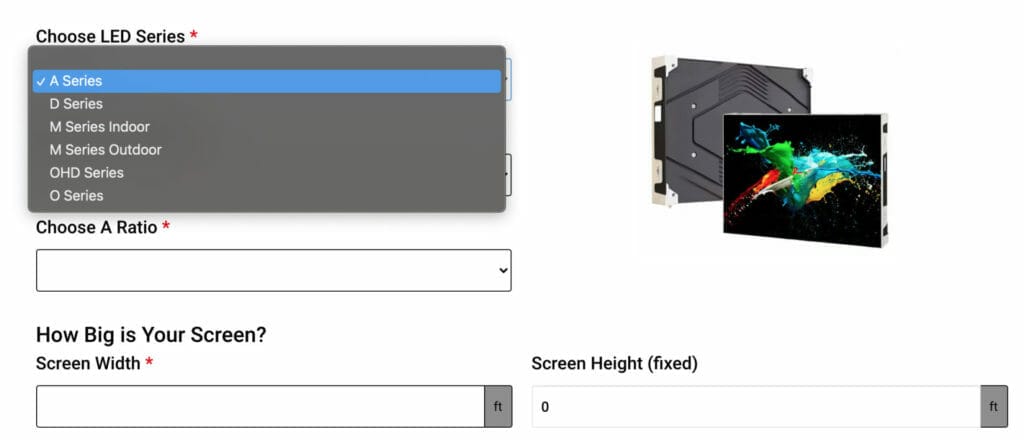 Once you're on the Screen Builder, you begin by selecting your LED Series from the Firefly product lineup. You can check out our Indoor LED or Outdoor LED pages to find out the best product for your customer.
From there, you pick your Pixel Pitch, Ratio and then input your potential screen width and height in feet. Once done so, you'll get the full specs and details in the box below, including total area, total panels, actual height/width, screen resolution, weight and power draw: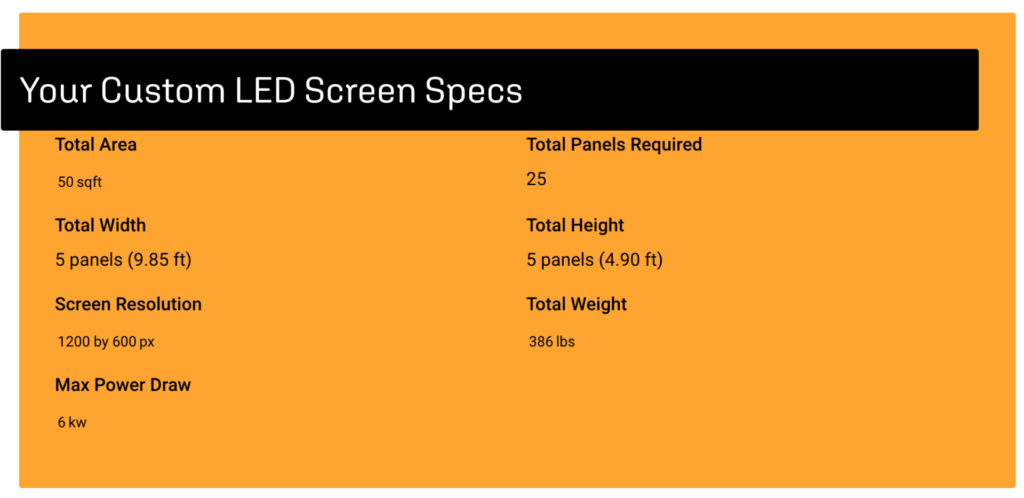 If you're happy with the specs and screen details, you input your Name and Email and hit "Price My Screen" — from there, you're taken directly to the Product page with the populated cost of your screen. Select your Add-Ons, add it to your cart, and simply check out.
We designed this process to be as easy and painless as possible, because we know how complicated it can be to order an LED display. With our LED Screen Builder, it's so simple you can quickly input the screen details from your projects and get instant pricing while on the phone with your customer. It's that easy.
However, we also know that not every situation can be built with our Screen Builder, and in this case, we are happy to talk further with you about our Custom Solutions.
Get dealer pricing
When you become an AV Integrator preferred vendor with Firefly, you get the added perk of an exclusive dealer promo code so that you can increase your profits. You'll use this code at checkout on fireflyled.com to automatically apply your discount.
Interested in becoming a dealer?
Reach out to the Firefly LED team at sales@fireflyled.com or call us at (877) 347-3533 and we'll be happy to talk with you further!